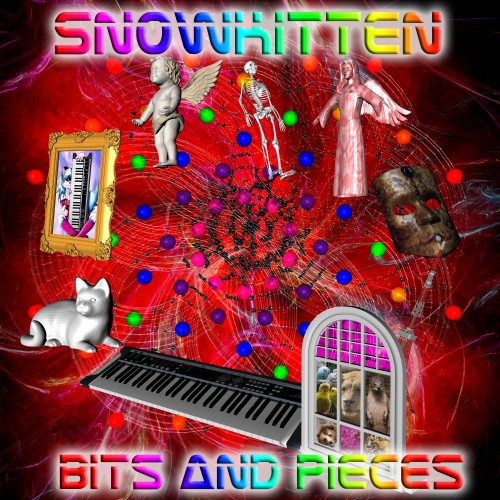 While putting together the songs for the "Snowkitten" album, I did a lot of improvised recordings, and that meant there was quite a bit of material left over that didn't get used, but that I felt could be used. There were also other bits left, and a few unfinished songs, from earlier albums which also felt as though they could be given a home. So, after the suggestion of a friend, I decided to rework those bits and pieces, and give this 2012 album the same title, which felt accurate enough.
The cover contains (again) 'bits and pieces' that have featured on previous covers. The photographs that you can see in the glass panels of the window, lower right, were very kindly provided by a friend called Tonya. She is an extremeley talented photographer, and creates a wonderful little comic called Dr Mew. But as if that wasn't enough, she also creates very impressive handmade jewellery, sold via Angelfyre Creations. Certainly well worth a look if you want something genuinally unique!
The track called "Emerge From Dishonour" once again uses the fine vocals of Snowflake. The "Destiny" track is a dark one, featuring a poem from Rob Walker on CCMixter. (A poem based around a "what if" scenario, effectively along the lines of "what if you travelled back in time, armed with a gun, and unwittingly met a young man by the name of Adolf Hitler. What would you do and is the obvious answer really so clear cut?"
And the track called "For Joy" is instrumental on this collection, but the original was inspired by Rose Caraway, creator of The Kiss Me Quicks erotic podcasts. Yeah I know... She used several of my songs in some of her podcasts, during either the actual readings or for the end credits music, and that helped gain me several new fans. So I did a remix using a part of one of her stories that she'd put onto CCMixter. Since it was very much an adult story, I decided to use an instrumental version of this song for the actual CD. If you're not likely to be offended by adult themes, you can find the original here, but do remember that it does contain adult language and themes, to say the least!